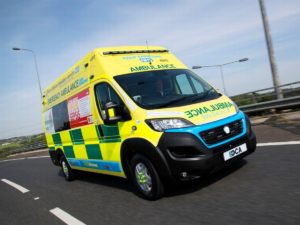 As of October 2020, more than 140,000 fully electric cars populate UK roads, with petrol-hybrid plugins also on the rise. Having an electric vehicle not only works out cheaper for the driver in the long term but also majorly reduces harmful damage caused to the environment by completely eradicating vehicle emissions.  As we all know, Electric cars are supposed to replace petrol and diesel cars entirely in the next 20 years or so, meaning that we will all have to slowly adapt to electric vehicles in the coming years. The government is slowly introducing the number of electric vehicle charging stations, whilst also offering grants to any business or family who wants to install a charging point at their workplace or home.
On the back of this, October 2020 has seen the introduction of the first all-electric ambulance to enter service in the West-Midlands. The specialist ambulance has been developed by Bradford-based conversion specialist, VCS, in a bid to modernise the ambulance services duties by making sure that their ambulances are the lightest and most technologically advanced in the industry. The specialist ambulance is powered by a 96kW battery pack which can achieve a range of around 110 miles with a short charging time of just 4 hours on a standard charge (which is a very generous range for a vehicle of that size). In terms of power, the ambulance can reach a top speed of a whopping 75 mph, meaning that they can respond to situations throughout the West Midlands quicker and more efficiently than ever. 
In terms of safety and accessibility, the VCS converted ambulance is equipped with all of the features that you would expect to see in a standard diesel ambulance; featuring the likes of a unique rear door damp assist system (DAS), hospital chair gangway accessibility, and intelligent run lock management. 
Mark Kerrigan, Managing Director at VCS concluded: 
"As the world moves away from fossil fuels and towards a zero-carbon future, it's important that the emergency services sector keeps pace. VCS has always been at the forefront of emergency service vehicle innovation, so we saw it as our duty to bring the pioneering E-DCA to market. The vehicle launched today is a strong first step on the path to electrification and we're confident that by working with outstanding operators, such as West Midlands Ambulance Service, we can continue to innovate and improve our zero-emissions offering."
The above statement provides insight as to where ambulances are likely to be in the next few coming years. It wouldn't surprise us if airplanes were next…