Whilst there are plenty of new vehicles coming out in both 2021 and 2022, we thought that we would show you our top picks from our favourite manufacturers. 
---
BMW M3 Competition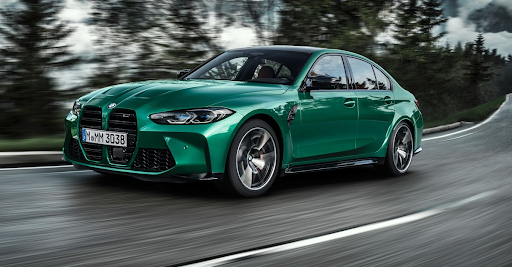 The BMW M3 is a popular vehicle amongst thrill-seeking car enthusiasts and makes up part of the BMW 'M Range', which is BMW's performance department. It is the performance variant of the ever-popular BMW 3-Series, where it builds upon its technology, styling, and of course, power. The latest generation of the M3 massively differs from past versions due to the fact that it features a brand new facelift, offering a fresh new grille, and a more robust body kit. This 503 BHP beast is powered by a 3.0L six-cylinder in-line engine with four-wheel drive; making those glorious summer days more fun than ever. The vehicle has a 0-62 mph time of just 3.9 seconds and is limited to a top speed of 155mph. 
Technology
12.3" Touchscreen Display
Apple CarPlay
Android Auto
Wifi Hotspot
Wireless Smartphone Charging Pad
Blind Spot Monitoring
Rear-Cross Traffic Alert
Adaptive Cruise Control
Lane Keeping Assist
Lane Departure Warning
0-62 Time 
3.9 seconds
Top Speed 
155mph
---
Cupra Formentor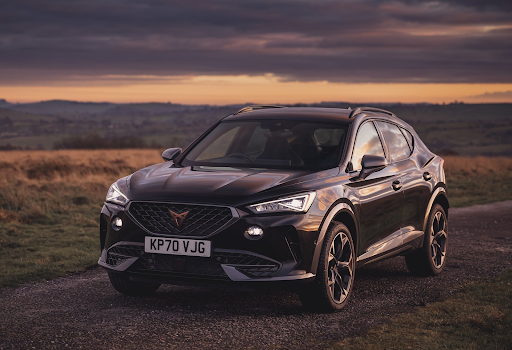 Cupra vehicles are well-known for their performance, power, sporty body kits, and especially for their trademark Cupra Leon hatchback. They were once the performance division of Spanish car manufacturer SEAT, but have just recently taken matters into their own hands by becoming their own manufacturer. The Formentor is the newest addition to the Cupra family and differs from the rest of the collection in that it's the manufacturer's first SUV/Crossover. The Formentor has been manufactured with a sophisticated Coupé design and exhilarating performance in mind, making it the perfect family car for those who need the practicality of an SUV, but also want performance. 
Technology
12" Infotainment Touchscreen
10" Digital Driver Binnacle
Rain-Sensing Wipers
Adaptive Cruise Control
Wireless Smartphone Charger
Rear Parking Sensors
0-62 Time
4.9 seconds
Top Speed
155 mph
---
Ford Mustang Mach-E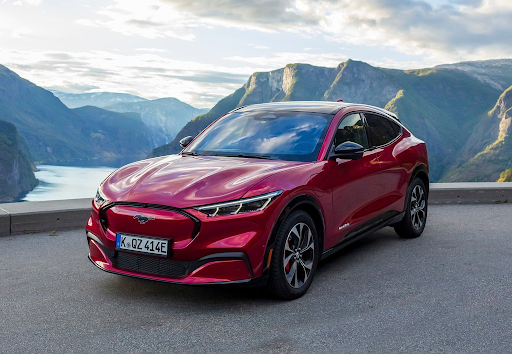 Now everyone's heard of the Ford Mustang; the iconic high-powered American sports car named after a WW2 fighter jet… But have you heard of the Mustang Mach-E? The Mach-E is the newest addition to the Ford Mustang collection and differs from the usual rebellious Mustang in that it's a crossover and features a battery instead of a high-powered 8-cylinder engine. The vehicle incorporates the latest technology and driving safety features, making the Mach-E incredibly safe, yet fun to drive.
Technology
15.5" Infotainment Screen!
Next Gen SYNC
Adaptive Suspension Technology
Smartphone Unlock
Start the Vehicle With Phone Or Access Code
0-62 Time
4.8 seconds
Top Speed
111 mph
---
Hyundai i20n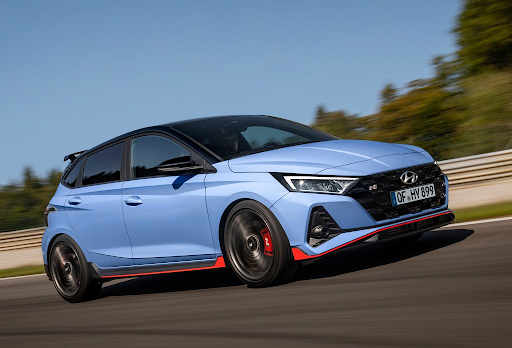 The Hyundai i20n is a brand new addition to the hot-hatch sector of the market and is set to be released in 2021. After the success of the popular Hyundai i30n, it was only a matter of time before the i20 received a performance variant as well. The new i20n is inspired by the i20 WRC rally car and will certainly satisfy performance-oriented enthusiasts with its 1.6L turbocharged GDI engine and six-speed manual transmission. The i20n adds an aerodynamically functional embodiment to the sporty styling of its base model.
Technology
Forward Collision Warning
Forward Collision-Avoidance
Lane Departure Warning
Lane Keeping Assist
Blind-Spot Collision Warning
Intelligent Speed Limit Assist
Lane Following Assist
0-62 Time
6.7 seconds
Top Speed
143 mph
---
Nissan Ariya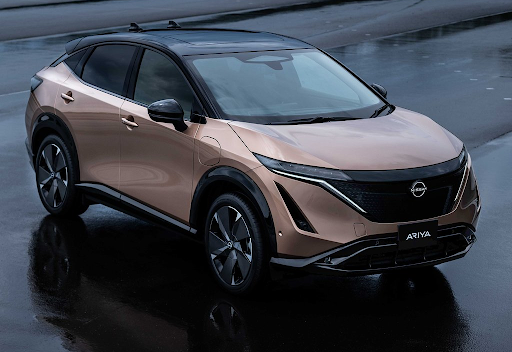 Nissan really pulled it out of the bag with the brand new Ariya. The Ariya is an all-electric coupe crossover set to be released to UK roads in 2021 and is one of the first vehicles to represent Nissan's fresh new futuristic logo. The technologically advanced Ariya features a luxurious and relaxing interior with incorporated autonomous driving technology, making those long and boring work commutes stressless. The Ariya has a generous 310-mile range and is charged with a 7.4kwh charging cable. 
Technology
ProPilot Autonomous Driving
Two 12.3" Infotainment Screens
HUD Display
4G Technology
Remote Software Upgrade
0-62 Time
5.1 seconds
Top Speed
115 mph