The Volkswagen Golf R is a vehicle loved by many and hated by very few. It boasts both incredible performance and handling whilst also being technologically advanced in both infotainment features and security. The vehicle has claimed an award for being the most popular performance car over rivals such as the BMW M3 and Audi S3. The Golf R tends to get a refresh every time that the standard Golf gets one, but differentiates itself from the base version with its fresh style and incredibly powerful engine. 
Lucky for us, Volkswagen has just announced the 2022 Golf R and it looks insane, building upon the previous versions technology and power whilst also incorporating the brand new VW 'R' Logo. The 2022 version is set to be an absolute powerhouse and will undoubtedly find its way onto the drives of many car owners. It's both incredibly exhilarating to drive and also works perfectly as a personal car due to the fact that it still has quite a plain look compared to the likes of a Honda Civic Type R for example. As it's such an exciting vehicle, we thought that we would provide you with a quick overview of the brand new Golf R and explain some of its new anticipated features.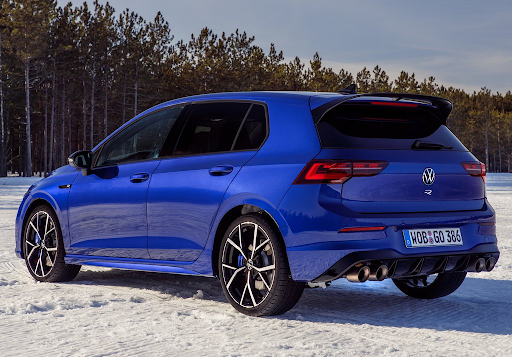 ---
Engine And Power
The new Volkswagen Golf R features a 7-speed powerful 1984cc four-cylinder turbocharged engine that delivers an astonishing 315bhp with 310 pound-feet of torque, making the vehicle an absolute joyride and perfect for those long and warm summer days. The engine can achieve 2100 rpm thanks to a fully electronic coolant unit whilst also having a very beneficial warm-up phase, meaning that you can feel the Golf's true power from the second you set off.
The engine has variable valve timing on both intake and exhaust cams, offering optimum control of gas exchange, improving both the performance of the vehicle and its fuel consumption. It also holds a DSG gearbox which provides seamless acceleration and gear changes.
Engine – 2.0 Four-cylinder turbocharged petrol engine
BHP – 315
0-62 – 4.7 seconds
Top Speed: Limited to 155mph
---
Interior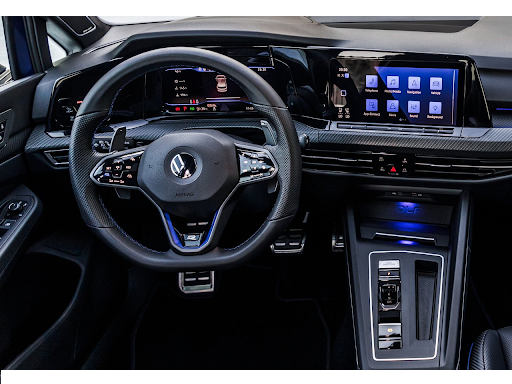 The interior of the 2022 Golf R is what sets it out from the rest of the competition; featuring a simplistic, yet futuristic design. The R is similar to the VW GTI in that it features a 10" touchscreen coupled with VW's digital cockpit. You will find that there is actually a pressable 'R' button that allows the driver to access the 'race drive' menu, allowing for different driving modes depending upon the situation. In terms of the upholstery, the Golf R offers premium Nappa leather seats featuring carbon-look elements with dark blue embroidery and the notorious 'R' logo.
---
Technological Features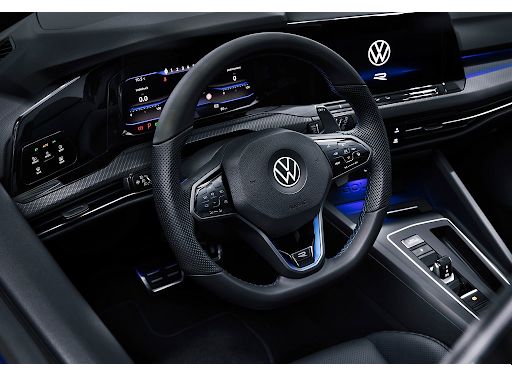 10" Infotainment Screen
Virtual Cockpit
Vehicle Dynamics Manager
And much more…
---
Past Versions And New Features
The new Golf R sports a modern grille and splitter featuring a wide LED strip that sits just below the brand new 'R' logo, providing the vehicle with a futuristic look. The vehicle is styled in a way that makes it look more aggressive than previous versions with bold gloss black elements throughout and a unique rear spoiler! The Golf R really is a must-have for all boy racers and driving enthusiasts.
Check out more information about the vehicle here