In a bid to improve the ease of charging electric vehicles, a project is underway to develop a publicly accessible EV domestic charge point in the street for people to use outside of their homes. The charge point will be powered through the owner's domestic electricity supply and can be installed on the street outside of their home; perfect for homeowners without front drives, or who live on terraced streets. 
This project has been made possible by Trojan energy, a key innovation business that was established in 2016 that has the goal of ensuring that everybody benefits from the electric transition. Trojan has stated on their website: "With total focus on enabling the switch to eMobility, we developed the Trojan Electric Vehicle Charging System. A system that finally offers an equal chance for EV drivers without a driveway to charge effectively at home, while eliminating residual clutter on the pavement. A system that doesn't require municipal authorities to zone off parking spaces and gives network operators the ability to manage power demand in real-time. A system smart enough to offer a convenient way to charge that's green, cheap, immediate – or a combination of all three – at up to 22kW. A system that delivers flat and flush charge points in hubs of fifteen, or single units powered by the home, to leave the streetscape uncluttered for everyone. We want to give drivers the confidence and practicality they need to go electric.
We're going to do our bit for the global effort to reduce carbon emissions and improve air quality by supporting electrification and the transition to renewable energy. We're doing this by addressing the lack of EV charging infrastructure within the urban environment."
What is their system?
The Trojan system is a flat and easy-to-use electric car charging system that can be installed into the street. (See image below)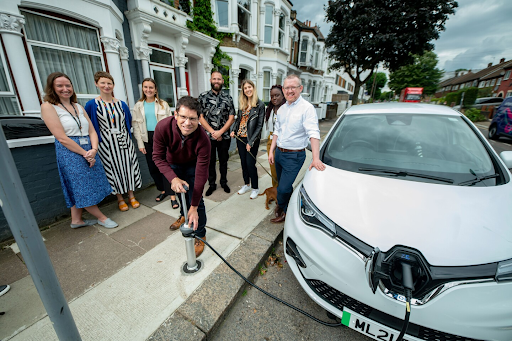 What are the benefits of the system?
There are many benefits of using this brand-new system. For many years now, electric vehicles have been increasing in popularity but for some drivers wanting to make the switch, the ability to charge and store an EV has been borderline impossible. For the most part, drivers who own electric vehicles most likely have a garage or front-drive that they can charge their vehicle from. This is because you ordinarily have to plug the vehicle in directly from the home energy supply, or through a dedicated installed charging box on the wall outside of their home. 
For terraced homeowners and for those who may live in a house with no driveway, the only easy way for drivers to charge their vehicles would be by going to a charging station nearby; something that isn't the most convenient and in some cases can be too far away from their home. With this in mind, there has been very little reason as to why someone would want to swap from a gas-powered vehicle to an electric vehicle. This new system however will completely change motives towards electric cars. They are more economically friendly to use and are much cheaper to power and run. You may argue that electric vehicles are much more expensive than their gas-guzzling counterparts, however, there are many new affordable EV vehicles coming to the automotive market. 
The true benefit of the system is that a brand new audience will now be able to utilize EV's if they decide to have this brand new system installed. It means that drivers will be able to keep their vehicle on the main road whilst not having to worry about charging the vehicle at a nearby station. The system is very clean-looking, takes up no space, and looks incredibly easy to use.