The Chinese automobile market has always been interesting to westerners due to the fact that they have many brands which look practically the same as the ones over here. For example, Landwind has been criticized in the past for producing the Landwind X7 which looks exactly like the Range Rover Evoque, nonetheless, it is a successful brand in China with many different interesting models and variants. The reason we brought this up is that you may have noticed that there are vehicles driven in China that are the exact same as the models produced by Volkswagen. However, this is no copy, there is actually a Chinese sub-brand of Volkswagen called Jetta; and yes, the brand is based on the model! 
Volkswagen took the unusual step of creating a model-based sub-brand because the Jetta model is so popular in China. The new brand targets young, first-time car buyers and was launched recently in 2019. When the brand first launched, they introduced two entry-level models, the Jetta VS5 compact crossover as well as the VA3 compact Sedan. Both vehicles target slightly different audiences to get a true taste of what the Chinese auto market was looking for. Astonishingly, Jetta reported sales of nearly 30,000 in the first three months, therefore foreshadowing the potential success that the brand may have. 
The following model introduced by Jetta was the VS7, a slightly larger crossover that went on sale in 2020 amidst the Covid Crisis. It has been said that the brand has been targeting their affordable, yet reliable vehicles towards younger buyers due to the effects of the Covid-19 pandemic.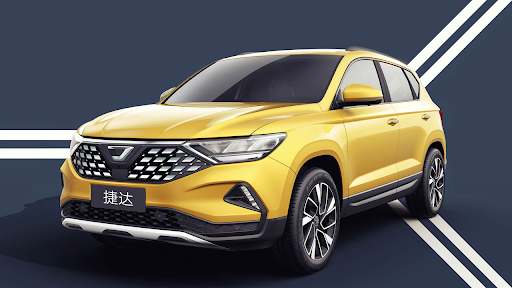 What Is The Jetta Brand?
The Jetta brand is a Chinese car marque created by the Volkswagen Brand with its joint venture partner FAW group in 2019.
Who are the FAW group?
Interestingly, the FAW Group is a Chinese state-owned automotive manufacturing company headquartered out of Changchun, China. They create a wide array of heavy-duty vehicles, domestic vehicles, trucks, and buses, and make up one of the "big-four" car manufacturer brands in China. Supporting a joint venture with Volkswagen was a very smart move for the manufacturer due to the sheer success the VW group has had worldwide. 
Will It Come To The West?
The Jetta brand will most likely not exist in the western world due to the fact that it is essentially the Volkswagen brand. However, this doesn't go to say that you won't be able to acquire one of their vehicles. Customers will most likely be able to import vehicles just like Westerners can from the East. 
What Vehicles Are Represented By The Jetta Brand?
The three Jetta models currently available are: VS7, VS5, and VA3.