What is a Low-Emission Zone?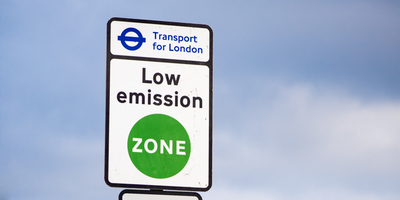 A low-emission zone is essentially what it says on the tin… It is a confined area or space of land where vehicle access is prohibited with the aim of improving air quality. Over the past few years, low-emission zones have become increasingly popular and especially in major cities where the air is heavily polluted. This does not go to say that all vehicles are prohibited though, only ones with high emissions can not enter the area (or are required to pay a fee). 
What Does It Involve?
Low Emission Zones or "LEZ" have been identified by the UK government as part of a new "air quality plan". The Government has introduced tariffs in some cities where a low emission zone is present with the aim of discouraging drivers from using the zone. Vehicles using electricity or hydrogen fuel are commonly used in the zones as they do not contribute to any greenhouse gases.
Below is a list of the UK cities that currently have Low-Emission Zones:
London




Birmingham


Nottingham


Brighton




Norwich




Oxford




Leeds




Glasgow
How Does It Benefit Us?
The Low Emission Zones benefit both society and its population in many different ways. For starters, it improves congestion in the area – making the roads clearer and more accessible for people using the zone. London for example is insanely busy most of the time and driving through the city can be quite stressful and dangerous, having these zones means that there is less congestion in the area. 
Another direct benefit is the effect it has on our health. The Low-Emission Zones are said to target roadside nitrogen oxide gases (NO2) which have a direct link to both cancer and respiratory diseases. The zone also benefits us in that it encourages the usage of public transport, cycling, and walking – leading to either clearer roads/streets and healthier individuals. 
---
London's Low Emission Zone
London was the first major city in the UK to benefit from the Low-Emission Program (ULEZ), and its success has led to the implementation of the scheme across many other major towns and cities across the UK (named above). 
Transport For London claims: "The Low Emission Zone (LEZ) operates to encourage the most polluting heavy diesel vehicles driving in London to become cleaner. The LEZ covers most of Greater London and is in operation 24 hours a day, every day of the year.
"The LEZ is separate from the Ultra Low Emission Zone (ULEZ) which is in place in central London and operates 24 hours a day, every day of the year except Christmas Day."
| | | |
| --- | --- | --- |
| Vehicle | Weight | Daily charge |
| Larger vans, motorised horseboxes, 4×4 light utility vehicles, pick-ups, other specialist vehicles | 1.205 tonnes unladen or more | £100 |
| Motor caravans, ambulances | 2.5 – 3.5 tonnes gross vehicle weight | £100 |
| Mini-buses (with more than eight passenger seats) | 5 tonnes or less gross vehicle weight | £100 |
| Lorries, goods vehicles, motor caravans, motorised horseboxes, breakdown and recovery vehicles, snow ploughs, gritters, refuse collection vehicles, road sweepers, concrete mixers, tippers, fire engines, removals lorries, other specialist vehicles | More than 3.5 tonnes gross vehicle weight | £200 |
| Buses, coaches (with more than eight passenger seats) | More than 5 tonnes gross vehicle weight | £200 |
What Happens If You Are a Resident In One Of The Zones?
Prior to October 2021, residents within Londons "ULEZ" zones were able to claim a 100% discount on tariffs whilst driving their cars within the zones, because of course they live there… However, according to thisismoney "Under the current ULEZ rules, anyone living within the zone will be able to register to receive a discount of 100%.
This is only available for a time-limited 'sunset period' from 8 April 2019 to 24 October 2021 – the date ULEZ will be expanded to the North and South Circular.
From 25 October 2021, residents will have to pay the full daily ULEZ charge to drive a vehicle in the zone if it does not meet the required standards, TfL confirmed to This is Money."
Introduction Of Manchester Low Emission Zone?
One of the newer cities that's going to benefit from Low Emission Zones is Manchester. The low emission zone will cover all of Greater Manchester and is due to be introduced on Monday 30th May 2022. High polluting vehicles of all sorts will be charged for driving around the city region if they don't comply with NO2 emission standards. If your vehicle meets the criteria, you will be able to use the zone without having to pay the charge. The GOV.UK or Greater Manchester vehicle checker service will tell you whether you will have to pay a daily charge to drive your vehicle in any clean air zone in England.