Introducing The Aston Martin Valhalla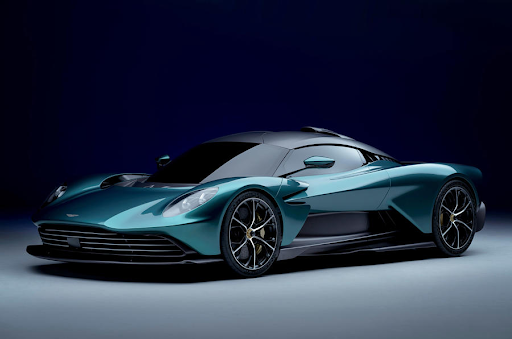 Plug-in hybrids have become increasingly popular over the past decade due to the fact that they are both economical and fun to drive. Being a plug-in hybrid simply means that the car uses both electric power and gas power during a journey. Many different manufacturers have different hybrid features in that some use electric power as a reserve, and others like Land Rover will make the vehicle drive in electric mode when under 30mph for example. But moving on, one of the most well-established and sought-after British vehicle manufacturers, Aston Martin, has just released information on their first plug-in hybrid, the Valhalla. 
Except for having a cool name, the Valhalla has some futuristic technology and features one of the most powerful engines on the market, offering an astounding 937 hp! "The launch of Valhalla demonstrates Aston Martin's commitment to building a range of exceptional mid-engine driver-focused cars," Aston Martin's chairman and largest shareholder, Lawrence Stroll, said in a statement. 
Interestingly enough, Aston Martin actually debuted a fully electric vehicle before they introduced a hybrid, which is strange due to the fact that most manufacturers begin outsourcing hybrid vehicles before they introduce their all-electric vehicles. Aston Martin's fully electric hypercar is the Rapide-E, an electric version of the ever-popular Rapide. 
The Valhalla is a concept car that has been brought to reality, something that doesn't usually tend to happen in the industry; especially in mid-engine supercars. It's built with aerodynamic and electric expertise that is inspired by Formula One.
The vehicle features a mid-engined 950PS gasoline and battery-powered powertrain, consisting of a rear-mid mounted V8 4.0L twin-turbo bespoke engine, having the capability of revving up to 7200rpm and developing 750PS. Because of this, it has been estimated that the Valhalla will be able to achieve a top speed of an astounding 217mph and a 0-62mph time of just 2.5 seconds! One of the features that we love about the Valhalla the most is that you can drive the vehicle in EV-only mode, which would enable the driver to reach a top speed of 80mph; perfect for those who want to cruise down the motorway whilst saving fuel. This really is one hell of an amazing supercar, it's crazy to think that it's road-legal!
It differs from the original concept in that the cabin will be much wider and more spacious than what was originally planned. The grille is also more prominent, and the headlights have been given greater presence to fill it out. The body is made up of carbon fiber, meaning that the Valhalla is incredibly light even though it features electronic batteries within. Like most supercars from Aston Martin, the doors hinge forward and cut into the roof, providing easy access to the cabin whilst looking insanely suave and futuristic.